Initiatives of Emil Stoyanov
In Plovdiv the Pygmalion Foundation gave for the fifth time its annual award for contribution in the field of philology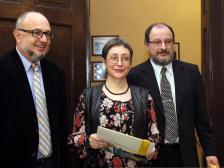 Prof. Inna Peleva of Plovdiv University "Paisii Hilendarski" is this year's winner of the Pygmalion Foundation. This award is granted for extraordinary contribution in the field of philology and was given to Prof. Peleva by the Founder and President of the Pygmalion Foundation - the Member of the European Parliament Emil Stoyanov. He awarded also the students, who this summer worked on the digitization of cultural heritage of Plovdiv in connection with the project 'Europeana'.


The winner was selected by a special jury, chaired by the rector of the Plovdiv University - Dr. Zapryan Kozludzhov. Prof. Peleva determines the award as a recognition for her work as a lecturer and researcher.

At the ceremony Emil Stoyanov presented the certificates to the ten students of university major "Linguistics in Information Technology" from Plovdiv University "Paisii Hilendarski" who worked in the summer on digitization of cultural heritage in the National Library "Ivan Vazov" in Plovdiv. Pygmalion Foundation gave the students scholarships for their work at the library.


The young people managed to digitize more than 4,000 pages from the extremely rare and valuable scientific journals held in Plovdiv Library "Ivan Vazov".
---
---
More Initiatives of Emil Stoyanov: